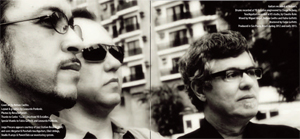 DIALETO is an Art-Rock / Prog-Rock band from São Paulo, Brazil, currently composed by Nelson Coelho on guitar, Miguel Angel on Drums and Jorge Pescara on bass touchstyle.

Formed in 1987 by Nelson, Miguel and Andrei Ivanovic on fretless bass, the trio resumed activities in 2006 after a long hiatus with good reception, both in Brazil and abroad, of their first two albums, "Will Exist Forever" from 2008 and "Chromatic Freedom" from 2010.

In 2012 DIALETO changes it's original lineup, introducing Jorge Pescara playing the bass lines with his inovative Touchguitar. The band has become an exclusively instrumental act, although keeping in their repertoire songs from the prior periods.

With the new line up the trio launches internationally in June 2013 the album "The Last Tribe" by the prestigious American label MoonJune Records, home to great musicians such as Allan Holdsworth and Soft Machine Legacy among others.
DIALETO é uma banda paulistana de Art-Rock / Prog-Rock composta atualmente por Nelson Coelho (Zero, Sotaque, AkiraS) na guitarra, Miguel Angel (Durex, Sotaque, Okotô) na Bateria e Jorge Pescara (Zero, Ithamara Koorax, Dom Um Romão, Eumir Deodato, etc) no baixo touchstyle.

Formado em 1987 por Nelson, Miguel e com Andrei Ivanovic no baixo fretless o trio retomou as atividades em 2006 após longo hiato tendo boa acolhida da crítica especializada, tanto no Brasil quanto no exterior, aos seus dois primeiros álbuns, "Will Exist Forever" de 2008 e "Chromatic Freedom" de 2010.

Em 2012 o DIALETO passa a contar com nova formação, agora com Jorge Pescara que introduz na música da banda o seu baixo do tipo Touchstyle. A banda passa também a se dedicar à música exclusivamente instrumental embora ainda mantenha em seu repertório músicas dos períodos anteriores.

Com a nova formação o trio lança internacionalmente em junho de 2013 o álbum "The Last Tribe" pela conceituada gravadora americana Moonjune Records, selo que abriga grandes nomes como Allan Holdsworth, Soft Machine Legacy entre outros.